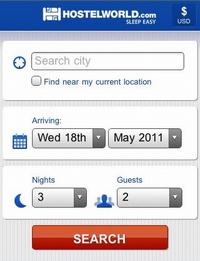 Are you someone who likes to browse the internet on the go? The type of person that is more comfortable surfing on your phone then on your computer? If so, it gives me great pleasure to pass on some good news – we've just launched the latest (and greatest) version of the Hostelworld.com mobile site.
So what's so new about the new version? Well, for a start there's been a complete redesign of the user interface. As a result, navigating our mobile site has never been easier. It looks and feels better than before.
We've also added geo-location features to site. Now you can locate properties that are near you using this feature, while you can also calculate the distance between your current location and the hostel from the listings page.
Not content with these two new additions, we've also added Google Streetview and pins to the map. As I said folks, browsing and navigating your way around the site has never been easier.
Have a look for yourself – the link is http://m.hostelworld.com. I probably don't need to state this, but you need to be looking at the site from your mobile/cell to see it. Hope you like it, and if you've any feedback you'd like to give us, you can do so by leaving a comment here on this post.