Posted: 23 Sep 2009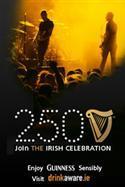 When people come to Ireland they all want to do one thing…drink a pint of Guinness. Whether it's in a traditional bar, an extremely touristy one, or in the place where they brew the 'black stuff', the Guinness Storehouse in Dublin, it's one thing you have to do when in Ireland.

Tomorrow, on September 24th, Guinness will be celebrating it's 250th birthday. And as it was founded by Arthur Guinness, it's aptly named Arthur's Day. As you would expect, there's going to be a whole lot going in different places around the world…

In Kuala Lumpur, capital of Malaysia, the Black Eyed Peas are headlining a concert. In Lagos in Nigeria Sean Paul will be the top act at a gig. And in Dublin, the home of Guinness, there will be lots going on…Welsh favourite Tom Jones will be performing there, as will Kasabian, Paolo Nutini and one of Ireland's best up and coming bands, The Chapters. And that's just the tip of the iceberg.

If you're not lucky enough to be able to catch one of these gigs don't fret. Whatever part of the world you're in, be it London, Boston or anywhere else, you can be assured of one thing…there's an Irish bar somewhere near you.

So don't wait until March 17th to celebrate the Emerald Isle, where Hostelworld.com was founded and operates from. Find your nearest Irish bar and help the world celebrate Arthur!