![if gte IE 8]> <![endif]>
New to Hostelworld.com: Video Postcards
Posted: 30 Sep 2009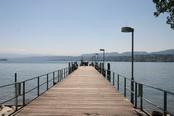 In Hostelworld.com's new Video Postcards, we take you on a trip around some of the world's top destinations. These video postcards include a look at the city's top attractions, bars, restaurants and more.

Our first video postcard features the Swiss capital, Zurich. Watch this video to catch a glimpse of the crystal clear waters of Lake Zurich, have a look at attractions like St. Peter's and the Landesmuseum, and see the bars and restaurants along Niederdorfstrasse.

'Zurich – a video postcard' is one of many Hostelworld.com videos covering cities across the world. To watch these videos, check out our video page here or have a look at our YouTube channel here.
Other Articles of Interest
Please give us your feedback