![if gte IE 8]> <![endif]>
New to Hostelworld.com: The Hostelworld.com Blog
Posted: 4 Nov 2009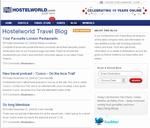 Here are Hostelworld.com we have just launched our new Hostelworld.com Blog.

This blog will allow Hostelworld.com to keep in touch with our customers and inform you of a wide range of things. Posts in the new blog will include on the road updates from our editors, travel tips, company information, additions to the site and much more.

So, whether you want to keep up with Colm's treks through South America or learn more about our latest podcasts and videos, check out the new Hostelworld.com Blog here.
Other Articles of Interest
Please give us your feedback