![if gte IE 8]> <![endif]>
New properties in Kiribati, Iceland and Australia sign up at Hostelworld.com
Posted: 7 Jul 2010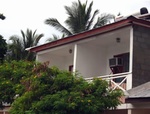 Hostelworld.com customers can now book hostels in Tarawa, hostels in Sudavik and hostels in Queenscliff.

Kiribati, an island nation in the Pacific, is one of the latest countries to offer accommodation here at Hostelworld.com. The first property from Kiribati to feature on the site is in Tarawa, the country's capital city. Marys Motel and Restaurant (pictured here) offers up a selection of ensuite rooms which are air-conditioned and have a TV and fridge. Visitors can also check out the on-site restaurant.

Trod is the first property from Sudavik, a town in the west fjords of Iceland, to appear on Hostelworld.com. Overlooking the harbour, this guesthouse is located inside an old house and offers visitors all the mod-cons including a fully-equipped guest kitchen.

Head to Queenscliff, which is a 90-minute drive southwest of Melbourne, and you'll find the Queenscliff Inn YHA. Located right at the heart of town, the Queenscliff Inn YHA offers a selection of different room types from family rooms to mixed dorms. Breakfast is available in the café and guests also have access to kitchen facilities.

Welcome to the properties from Tarawa, Trod and Queenscliff. To book these properties and more, check out Hostelworld.com.
Other Articles of Interest
Please give us your feedback