![if gte IE 8]> <![endif]>
Properties in Cape Verde, Turkey and Hungary new to Hostelworld.com
Posted: 21 Jul 2010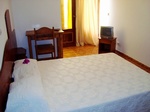 Hostelworld.com customers can now book hostels in Hodmezovasarhely, hostels in Santa Maria and hostels in Kabak Valley.

The first property to appear on Hostelworld.com from Santa Maria in Cape Verde, an island nation off the west coast of Africa, is Guesthouse Santos&Silva (pictured here). At this guesthouse you'll find four rooms offering ensuite bathrooms, a TV, a balcony and air conditioning. WiFi is available.

Debreczeni Laszlo's Guest House is located in Hodmezovasarhely, a city in the south-eastern part of Hungary and is the first property from this area to be featured here on Hostelworld.com. A variety of room types are available from single rooms to four-bed dorm rooms. WiFi is provided free of charge and guests have access to a fully equipped kitchen.

A mere 5-minute walk from the beach, Sultan Camp is the first property from Kabak Valley in Turkey to appear on Hostelworld.com. Camping spots and bungalows are amongst the types of accommodation offered at Sultan Camp. There's an on-site swimming pool and bar, and WiFi is available.

Welcome to the properties from Hodmezovasarhely, Santa Maria and Kabak Valley. To book these properties and more, check out Hostelworld.com.
Other Articles of Interest
Please give us your feedback