Posted: 17 Aug 2010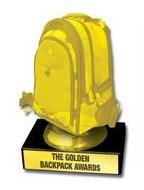 Awarding the best websites, hostels and more in Australia and New Zealand, the annual Golden Backpacks Awards reward those who make sure backpacking around these countries is an unforgettable experience. Just like everybody else, we want to make sure Hostelworld.com wins one. To do so, we need your help, but the good news is that you could win AUS$1,000 of free flights in the process!
To help us win simply vote for Hostelworld.com in the 'Best Backpacker Website' in the General category on the Golden Backpack voting page (the 'General' category is at the bottom). While you're at it you may want to vote in the other categories – we'll leave that up to you.
Wondering why you should vote for us? Well, we have more hostels than any other hostel booking website and we offer you the facility to book tours as well as hostels. But we're far much more than just a hostel booking website – we've got award-winning videos, award-winning podcasts, free pocket guides and more in our guides section. We've also got a travel services section where you can buy travel SIM cards and more, and an online community that we call 'MyWorld'.
As you can see we think we're the best backpacker website, hopefully you will too and take out the three minutes to vote for us. And again, don't forget, vote and you might win that AUS$1,000!