![if gte IE 8]> <![endif]>
Hostelworld.com launches latest version of mobile site
Posted: 18 May 2011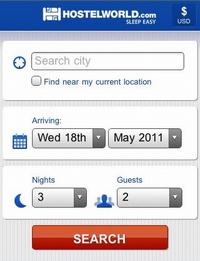 To help those of you who like to browse and book on the go, Hostelworld.com has just launched the new and improved version of our mobile site. Accessible from your mobile device at http://m.hostelworld.com (needs to be viewed from mobile/cell phone), the latest version of the site has a number of key new features.
These include:
A complete redesign of the user interface
The ability to locate properties "near me"
Pins and Google 'Streetview' have been added to maps
The distance between your current location and the property on the hostel listings page
This is the first of a series of new mobile offerings from us, with plenty more new offerings on the way.
Other Articles of Interest
Please give us your feedback