Hostelworld.com
Group Booking Terms and Conditions
Because you are making a Group Booking, there are additional Terms and Conditions that apply. Please read them and click 'I Accept' below to continue with your booking
General Group Booking Terms
By making a group reservation through Hostelworld.com you agree to the following terms and conditions as set by Hostelworld.com and as set by the hostel in question.
In order to make a group reservation on Hostelworld.com it is necessary to pay a deposit. The balance is due directly to the hostel according to their payment conditions.
The booking deposit is non-refundable.
Please note that any cancellations must be notified directly to the hostel at least 24 hours in advance of your scheduled arrival date, unless otherwise stated in the hostel's conditions.
Hostelworld.com are not responsible for changes or amendments to your reservation once it has been processed. All correspondence with regard to changes to your booking need to be dealt with directly with the hostel.
Cancellations for reservations must be made directly with the hostel and must conform with the individual hostels cancellation policy (see below)
It is your responsibility to pay the balance of your accommodation cost to the hostel in accordance with their payment conditions (see below). Failure to do so may result in your reservation being cancelled by the hostel.
Individual hostels may have special booking conditions relating to group stays, please read the hostel booking conditions carefully before making your reservation.
Hostel Specific Terms & Conditions
The remainder of the amount due will be charged to your credit card on arrival. Should numbers or room selection change, the per person deposit times the number of people who actually travelled will be deducted from the total accommodation charge levvied by the hostel.
Cancellation / No Show & Reduction in Numbers Policy
Cancellation Policy: 4 days before arrival

50% deposit for groups larger than 10 made no less than 1 week in advance of arrival

If there is a no show, no amount of the deposit shall be returned

Any changes to the reservation, including guest numbers, shall be made no less than 4 days before arrival. Failure to notify will result in the full original amount charged.
Additional Terms and Conditions
Check In: 2.00 pm
Check Out: 12.00 pm

Method of Payment upon the arrival: Cash only!

Breakfast is included.
Taxes are included.

Families with children are welcome.
There are no drugs allowed in the hostel and on our property.
Any cancellations resulting from agreement to these terms and conditions under false pretences will result in loss of deposit.
Free Cancellation
Hostal Pakay boasts great views over the town, the Llanganates mountains and the captivating grounds around the guesthouse. The property has more than two hectares that displays a variety of plants and birds plus a jungle garden with the typical agriculture of the Amazon.

It is built with local materials and eco-friendly accommodations like dry toilets and a biological waste water treatment.

We offer:

- Private and Dorm rooms available
- Breakfast Included
- Hot water
- Hammocks
- Free WiFi
- Free and unlimited drinking water
- Beer for sale
- Book exchange
- Tour agency is located onsite, with tours guided in English, German and Spanish
- Kayak lessons
- Full day raft trips
- Cultural Immersion programs

Hostal Pakay is a beautiful eco-friendly guesthouse, built of local materials such as Bamboo, and Palm

Hostal Paklay is located in the outskirts of town, surrounded by Amazon Jungle. From the bus station it is only a few minutes by taxi or a 15-minute walk.

Please note:

Cancellation Policy: 1 day before the arrival

Check In: 2.00 pm

Check Out: 12.00 pm

Method of Payment upon the arrival: Cash only!

Breakfast is included.

Taxes are included.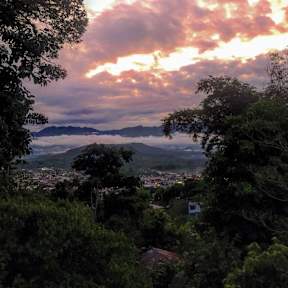 Latest Reviews
My friends and I had an incredible time at this hostel! Tony is very knowledgeable and organized some amazing tours for us. Breakfast was delicious and the whole ambiance was just what we needed after a few weeks in Quito. The dry toilets are way easier to get used to than I thought they would be. The location is great -- you feel like you are in the middle of the jungle but are still close enough to the city to be able to easily go into town for a meal. Can't recommend it enough!

USA, Female, 18-24

Loved it! Tony is brilliant and once he realise my partner really didn't like spiders he was amazing at being reassuring and asked every morning if we had any problems. Go stay there!

England, Male, 25-30

Tony (the owner) is THE best tour guide I've ever had. He put together a perfect day for us and curated every bit of it. The hostel is beautiful - all wood everything, hammocks, mosquito nets, great breakfast and lots of helpful staff. It's $1.50 to town via taxi, or a 20 min walk, and you'll only want to go there for dinner and a stroll down the beautiful riverfront one night.

USA, Mixed Group, 31-40

Hostal Pakay is in a beautiful location, the staff is kind, and the facilities were possibly the nicest we have stayed in. (The WiFi was also the fastest, which was nice for uploading our rainforest pictures.) I was a little afraid of the dry toilet initially, but it was actually super nice and I think more people should have them! Do be aware that they are not right in town. They have good laundry service, but it cost $6 for our load! A monopoly on rainforest returners, it seems!

USA, Couple, 25-30
Read all reviews
Free Breakfast
Free Parking
Free WiFi
Linen Included
Towels Included
Book Exchange
Hot Showers
Outdoor Terrace
Parking
24 Hour Reception
Laundry Facilities
Luggage Storage
Shuttle Bus
Tours/Travel Desk
---
Child Friendly
Credit Cards Not Accepted
---
Please note:

Cancellation Policy: 1 day before the arrival

Check In: 2.00 pm

Check Out: 12.00 pm

Method of Payment upon the arrival: Cash only!

Breakfast is included.

Taxes are included.
---
---
Session Expired
Session Expired
Please enter the password for the account <% email %>
×