Backpacking Colombia: Your Guide To Colour, Coffee & Culture
Colombia is the land of tropical landscapes, rich, velvety coffee and all-night parties in buzzy, design-centric cities making it the perfect backpacking destination for wide-eyed and curious travellers. Overcoming its reputation for drugs and civil war, Colombia is fast becoming a must-see destination for travellers who want to venture further and explore vast wilderness, postcard beautiful beaches, colourful towns, a burgeoning art scene, unforgettable nightlife and encounter some of the friendliest locals you're likely to ever meet. Here is our guide to backpacking in Colombia:
Best time to visit Colombia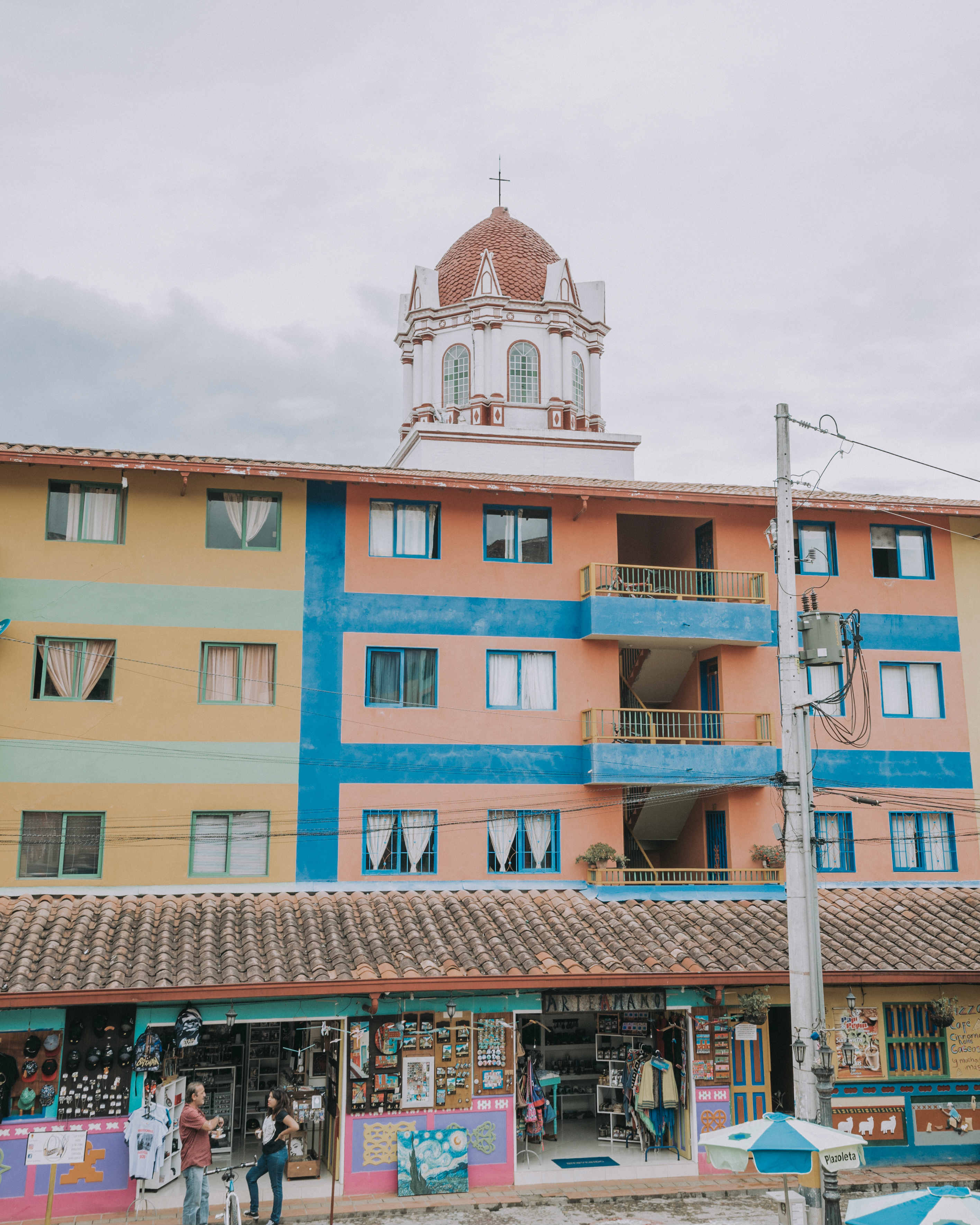 Guatape @creatifartiste
When is the best time to visit Colombia? Well, here's the good news: Colombia doesn't have temperate seasons, like a cold winter and a hot summer. Here's the bad news: every region of Colombia has completely different weather, and in certain parts of the country there is a rainy season during which floods can occur. April, May, October, and November can be tricky depending on where you're visiting.
Colombia has an incredible diversity of micro-climates, meaning that it's freezing in Bogota at the same time as it's sweltering in Cartagena. So rather than packing your weather-appropriate clothing and gear based on time of the year, you'll want to think about the locations you're visiting instead.
Bogota is located at a high altitude in the Colombian Andes and is chilly year-round. The warmest it will get during the day is around 18°C, and it's likely to drop to around 7°C at night. You'll definitely want to pack a jacket to wear around Bogota!
Tropical Cartagena is bordered by the Caribbean sea, and is hot and sunny year-round. Plan to be sweating in the sun midday at around 32°C and cooling off at night with a balmy 27°C. Make sure to book a hostel with airconditioning or at the very least, a fan – you'll need it.
There is a short rainy season in Cartagena between October and November but the rain typically lasts for only a few hours – a convenient time to escape the heat of the day and check out a museum while waiting for the sun to reappear. That said, in nearby Barranquilla, the rainy season is from June to September and is MUCH more monsoon-like.
Medellin is known for its pleasant weather year-round, hence its nickname, "The City of Eternal Spring."  The temperatures are unlikely to go much higher than a comfortable 26°C or fall much lower than 17°C.
If you're looking for more guidance to help you decide when to visit Colombia, festivals and events are a better seasonal marker than its predictably varied weather patterns. Medellin's Flower Festival is world-famous for its stunning displays of flora, which blooms all over the city in late July and early August. Barranquilla, located only a couple of hours away from Cartagena, is home to one of the most famous carnivals in all of South America, held every year during the three days before Lent.
Speaking of Lent, Colombia is a Catholic country and takes its Catholic holidays very seriously. And by seriously, I mean they celebrate ALL of them in the most extra way possible. Visit around Easter, for example, and you'll find everything shut down for Semana Santa, a Catholic festival which lasts for an entire week. Colombia: where Catholicism is fun!
Another quirk is that there are a surprising number of holidays that seem to be celebrated without much warning: Colombia has 18 official public holidays, plus many more depending on which part of the country you happen to be visiting. Wake up in Santa Marta on July 16th, for example, and you'll find a massive procession outside your door celebrating La Virgen de Carmen, also known as Santa Maria, not to be confused with Saint Martha, whose holiday is celebrated just 2 weeks later.
This is all fun and games until you realize that everything is closed in observance of the holiday (surprise!), so always make sure you have a box of emergency festival pasta to cook in your hostel kitchen – just in case.
Do I need a visa for Colombia?
Australian, Canadian, EU, UK and US nationals can enter Colombia for up to 90 days without a visa. You should have evidence of your return or onward travel documents.
Your passport needs to be valid from at least six months from the date you intend to return to your home country. You must obtain an entry stamp in your passport if you enter Colombia by land. You'll be forced to return to the border if you don't get this stamp.
An airport tax is charged for international departures of 38 USD. This is mandatory for all travellers.
Getting around Colombia
There are few things in life more confusing than Colombian transportation. If you've ever wished to be the sort of traveler who effortlessly goes with the flow, who shrugs and says things like "we'll get there when we get there," and "it's all part of the journey, isn't it?" then just spend some time trying to navigate Colombia using public transportation.
It took us a full month to figure out how Colombian transportation worked, and our realization came less as a set of rules and regulations than the resigned acceptance that there are no rules or regulations.
The word "tranquilo" is the national Colombian state of being, and the appropriate response to absolutely anything and everything while in Colombia. It is the best way to describe the zen that you will need to develop in order to cope with Colombian transportation.
But hey, don't let that discourage you. It's all part of the journey isn't it?
Still, allow me to set your expectations. Time does not exist in Colombia the way that you expect it to. Instead, it slows down, like sticky arequipe, the delicious Colombian caramel. One hour of travel time in Colombia is the equivalent of roughly three hours of regular time, whether you're sitting in traffic or driving at a breakneck speed on the wrong side of the road. Do not expect anything to be on time, ever. Because it won't. Multiply all expected travel times by three, then add an extra hour to be safe, and just take deep breaths. Tranquilo!
Now that that's out of the way: there are myriad ways to actually get around in Colombia. Transportation will get you absolutely everywhere you need to go, from cities to rural towns to waterfalls hidden in the jungle. And it's easy to find, too: just stand outside and look like a gringo, and someone will quickly arrive, eager to take you wherever you need to go.
You should not attempt to rent a car in Colombia: local drivers follow (or don't follow) their own set of unwritten rules, and you just might find yourself playing chicken with a bus on the highway. Don't risk it!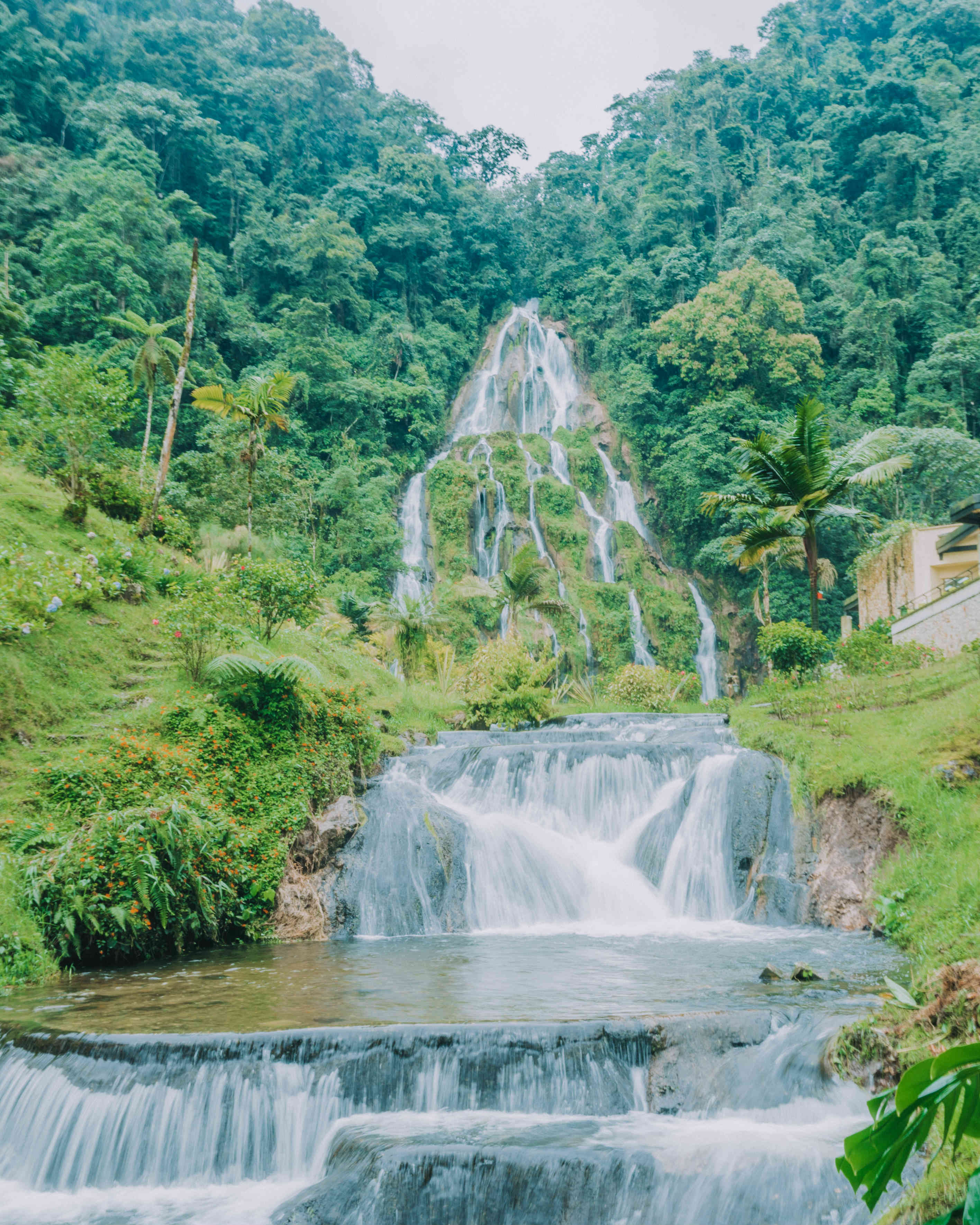 Pereira @creatifartiste
Taxi
Taxis are the most convenient form of transportation in Colombia, and there is always a yellow taxi around when you need one. However, the easiest way to get around is also the most expensive.
The main thing to know before taking a taxi in Colombia is to always negotiate your fare before getting into the taxi. Some cities, like Medellin, have working meters. Others do not. And some taxis have meters but are still open to a negotiated fare – that is, if your Spanish is good enough.
Before negotiating a taxi fare, be sure to ask an unbiased local what the cost of your taxi should be, as your quoted rate will always be higher. You are fully expected to politely haggle this charge.
That said, once you and your driver have agreed on a fare, you won't find yourself asked to pay more at the end of your ride, even if there is heavy traffic, your driver gets lost 18 times, neither of you knows exactly where you're going, and/or the Colombian space-time continuum somehow adds an hour or so to your five-minute taxi ride. The drivers are all very tranquilo – and friendly, too! Taxis are a great opportunity for practising conversational Spanish.
Moto-taxi
A moto-taxi is exactly what they sound like: a motorcycle taxi. You will be riding on the back of a motorcycle or scooter, holding on for dear life as you fly past the Colombian countryside.
Moto-taxis are the most fun form of transportation in Colombia, and they can take you absolutely anywhere. Nothing comes close to the thrill of riding a moto-taxi through the jungle in Minca on your way to a waterfall. Go ahead – channel your inner Che Guevara!
Moto-taxis are generally cheaper than a taxi, and in some areas they are governed by similar laws. But they can also be more dangerous, especially in inclement weather. Always, ALWAYS wear a helmet. All moto-taxi drivers should have one to spare, and if they don't, they'll find you someone who does.
Moto-taxis are easiest to ride when you don't have a lot of baggage with you (backpacks are fine, suitcases are difficult) and ideal for short distances. And as with a regular taxi, you should negotiate pricing before you climb on on.
Moto-taxi @creatifartiste
Colectivo
A "colectivo" is a shared van or small bus with room for 6-12 people (actually, "room" is generous – prepare to be squished). They run more or less along a set route. Although it may seem strange to hop into an unmarked van, colectivos are a totally legitimate form of public transportation in Colombia and very cheap. They're one of the most common ways to get around for both locals and tourists.
To find a colectivo, you'll need to stand along part of the route or, in some cases, find a certain street corner. This is impossible to know without asking someone, so brush up on your conversational Spanish or just get comfortable with repeating your final destination along with the word "colectivo?" to everyone you pass as you make your way through town. One of our favorite things about Colombia is that absolutely everyone will be more than happy to help you find your way.
You'll be able to easily identify a colectivo because someone will be hanging off or leaning out the window calling out destinations they drive past. If you want to figure out whether this colectivo is headed where you are, just say your destination. They'll either be willing to take you there, or they won't.
Sometimes, if your destination is close to their usual route, the driver will be willing to take you to exactly wherever you need to go. Run out of cash? Ask your driver to stop by an ATM. Hungry? Ask to be dropped off at their favorite restaurant. Don't worry, your fellow passengers won't mind if your driver takes a 30-minute long detour to deliver you to your hostel, because this is Colombia, and everything is tranquilo.
Always allow extra time if you're taking a colectivo, not only for tourists who need to make ATM runs, but also because your driver will circle around and around until they fill up their vehicle entirely before they actually start driving their route. This will take about a zillion years. Deep breaths. Tranquilo.
Bus
There are two forms of buses in Colombia: public buses, which operate just like colectivos but with more seats, and privately owned coach buses. Private coach buses in Colombia are the most expensive and also the most luxurious way to travel through the country, and when I say "luxurious," I'm talking air conditioning, Wi-Fi, and poorly dubbed bootleg movies. What more could you want?
Taking a private bus is fairly straightforward. First, find your way to the town's bus terminal with a taxi or moto-taxi. Once you're there, just walk around looking for signs for your destination. There are usually multiple companies headed to the same destinations all leaving at different times and costing similar prices. Few companies allow you to book online, and some require you to pay in cash.
Coach buses are best for long term travel, such as from one city to another. Private coach bus companies like Berlinas or Flota Occidental operate set routes running on a schedule, departing and arriving from either the town bus station or their own specific bus station. They don't take many unscheduled stops, which means they are generally faster than a colectivo or public bus. Although they don't have bathrooms, any long bus ride through Colombia will always include a stop or two for bathroom breaks and a nice sit-down meal. And don't worry about getting hungry: throughout your route, vendors will hop on board selling delicious local specialities casually wrapped in plastic or paper. We call these delicacies "bus snacks," and they're one of the best and cheapest ways to try various Colombian foods!
Although coach buses are the best way to travel between most cities and towns in Colombia, we don't recommend relying on the bus for long distances such as Bogota to Medellin or Cartagena. For long distance trips between major Colombian cities, a flight will cost roughly the same amount and take a LOT less time. Remember that Colombia is a large, mountainous country: there are two mountain ranges just between Bogota and Medellin!
Average costs in Colombia
By Dale Rolfe (Hostelworld)
The currency in Colombia is the Colombian Peso, or COP for short. It's an easy conversion between US dollars and the Euro: simply divide any Colombian price by 3,000 (or, even easier, divide by 3 and then pretend none of the zeros exist). "Tres mil" is about $1 or €1. Of course, be sure to check the conversion before you go to ensure it hasn't changed.
Colombia is generally very affordable by Western standards. It's quite doable to get by in Colombia on $30 or less per day. As a couple, you can save even more: during a full month in Colombia, my husband and I spent around $17 each per day, splitting everything from taxis to meals.
A bed in a hostel dorm will rarely cost more than $15; most will cost around $10 and include a hearty breakfast, too.
Purified bottled water will cost around $1 or less, although we recommend packing a Steri-Pen water purifier or a GRAYL reusable water bottle to cut down on plastic waste.
Aguila, the most popular beer in Colombia, can always be found for around $1. A meal in Colombia will rarely cost more than $5 – and when it does, it will either be a tourist trap or well worth the extra expense. Street food in Colombia is particularly cheap. It's easy to eat well in Colombia, even with a tight budget.
Cash is king in Colombia – many local businesses are unable to take credit cards, and some will refuse to break large bills. Be sure to carry around plenty of small bills and change.
Accommodation in Colombia
By Dale Rolfe (Hostelworld)
Even hardcore party-goers and thrill-seeker adventurers need somewhere to rest their weary heads and Colombia has some of the best hostels in the world –  relax in an ex-cartel colonial mansion, atop jungle canopies or in castaway beach huts. Practice your salsa dancing, dive into epic pool parties and take empanada cooking classes at hostels around the country.
Viajero Tayrona Hostel & Ecohabs
There are hostels in all major cities and most of the smaller ones. We have a complete guide to the best hostels throughout the country to book your ultimate trip.
Casa Elemento Minca @creatifartiste
Colombia itineraries
10 Days in Colombia: Exploring the Caribbean Coast
This itinerary will take you all along the northern coast of Colombia, from the beach to the mountains and back again. We packed a lot of stops into 10 days, but if you can power through you'll be rewarded with picturesque views, delicious food, and the warm Caribbean ocean.
Cartagena @creatifartiste
Day 1: Fly into Cartagena
Getting to the northern coast of Colombia is fairly easy, thanks to Cartagena's major international airport. Although Bogota is the country's capital and largest city, we actually prefer to fly into Cartagena.
Try to get a flight that arrives in the morning or afternoon. With only ten days in the plan, you're going to want to get moving!
Once you arrive, spend a full day and evening walking around the beautiful colonial walled city, as well as its neighboring district Getsemani.
We recommend staying in Getsemani. It's a stone's throw from the walled city without the noise (or price tag). Most of the best hostels in Cartagena are located here. Getsemani is a local favorite known for its street art and delicious food.
Day 2: Leave Cartagena for Isla Barú
The best beaches in Cartagena aren't found in the city, but on the archipelago of islands just off the coast! One of those islands, Isla Barú, is home to Cartagena's most famous beach: Playa Blanca. If you're seeking white sand and bright blue sea, Playa Blanca is the spot.
It is no hard feat to find a day trip to Isla Barú to visit Playa Blanca, but we feel the island is best enjoyed with an overnight. You can take a cab or ferry to Isla Barú from Cartagena, or arrange a shuttle through your accommodation. Playa Blanca fills up around midday with tourists and vendors. To avoid the crowds and a constant barrage of pushy vendors, we recommend staying overnight so you can experience the beach in the morning and late afternoon, sans crowds and vendors.
Day 3: Isla Barú to Minca
It will take about six hours to get from Isla Barú to Minca, but don't let that deter you. Minca is always on our must-see list for Colombia because it embodies so much of what is great about the country: beauty, nature, wonderful people, indigenous culture, and delicious food. The town is located in the Sierra Nevada mountains, and offers a wonderful combination of cool mountain air and thick jungle. It's also a jumping-off point for the multi-day Ciudad Perdida trek.
To get to Minca, you'll need to pass through Santa Marta. Once you arrive in Santa Marta, you can take a colectivo to Minca.
Minca @creatifartiste
Day 4: Minca
Although tiny, Minca has a ton of activities to keep you occupied. An absolute must-visit is Pozo Azul, a swimming hole in the jungle where you can swim and cliff-jump. Take a moto-taxi to Pozo Azul (it's SO much fun!) but hike back so you can enjoy the stunning views of the rolling countryside.
Some of the other best things to do in Minca are chocolate and coffee farm tours, enjoying artisanal bread at Duni, and bird watching. Did you know Minca has the highest number of indigenous bird species in the world?
Day 5: Minca to Eco Hostel Yuluka
Eco Hostel Yuluka is one of the best hostels in Colombia: it's beautiful, inexpensive, and located just outside the entrance to Parque Tayrona, Colombia's most famous national park.
To get there, just take the colectivo back to Santa Marta and hop on a bus heading towards Tayrona or Palomino and get off at Kilometer 28.
Parque Tayrona @creatifartiste
Day 6: Parque Tayrona Day Trip
Enjoy the hearty included breakfast at Eco Hostel Yuluka and take the free shuttle into Parque Taryona. Pack a swimsuit and plenty of water. You'll have a two hour hike through the jungle, but you'll be treated to a series of the most beautiful beaches you've ever seen.
Day 7: Eco Hostel Yuluka to Palomino
Grab the same bus you got off of before and ride it through to Palomino. There still hasn't been a huge tourism move to Palomino (partly because of its isolation), which means the sugar sand beaches are nice and quiet. Don't miss the scenic river tubing on Rio Palomino.
Day 8: Palomino to Cartagena
Another long transit day, but that's Colombia for you. Expect to travel about 8 hours to get back to Cartagena.
Day 9: Cartagena
Today is all about exploring Cartagena! If you didn't have time to walk down every single street in the walled city, now is your chance. Thankfully, it's possible to explore the whole city by foot in 24 hours. Don't forget to stop and eat some delicious coconut fish stew!
Day 10: Leave Colombia
All good things come to an end, and sadly this trip is one of them. Get your last bit of tranquilo in before saying adios to Colombia.
Cartagena @creatifartiste
2 weeks in Colombia: Mountains and coffee
Day 1: Fly into Medellin
What, not Bogota!? No. Minimize your bus time and arrive in Medellin. Keep in mind, the airport is pretty far from El Poblado, which is where most hostels are. Expect to take a cab.
Day 2: Medellin
Medellin is a major city, so there are tons of things to do. We recommend the famous free walking tour (any hostel can sign you up) and taking a budget friendly self-guided metro tour.
Day 3: Guatape Day Trip
Guatape is called the most colorful city in Colombia. And considering how colorful the rest of the country is, that's really saying something.
In Guatape, you'll find a giant monolith to climb for the view of a lifetime, the cutest streets, breathtaking waterways, and oh yeah…you can play paintball in one of Pablo Escobar's houses.
Salento @creatifartiste
Day 4: Medellin to Salento
Salento is home to the famous Colombian wax palms, the tallest palm trees in the world, and it's one of the primary coffee hubs of the country, located in the Eje Cafetero, the coffee region. Oh, and it's insanely green and beautiful. To get there from Medellin, grab a bus. There are direct lines four times a day, or you might need to transfer in Armenia.
Day 5: Salento
Take a Willy (Salento's jeep taxis) from the town plaza and head to the famous Valle de Cocora, a vibrant green valley which is the best place to see towering wax palms in the world and home to one of the best day hikes in Colombia. You'll have a muddy, moderate to strenuous hike where you'll be surrounded by Dr. Seuss-ian wax palms, ascend into a cloud forest, and be rewarded with a one of the most breathtaking views in Colombia.
Day 6: Salento
Unwind after your hike with a hot cup of coffee … on the farm where it was grown! Salento has plenty of coffee farms to choose from. We recommend visiting Finca El Ocaso. You can get there via Willy, or some hostels are located within walking distance. The views on the way to the farm are just as incredible as the coffee.
Day 7: Salento to Bogota
You might be wondering why Bogota is in the middle of this trip AND at the end. Well, this area of Colombia is mountainous, so transit takes a while, and it's worth it to swing through Bogota to get to your next destination. Grab an early morning bus to Bogota, because you're going to need a good deal of time.
Day 8: Bogota
Take a day off from transit to explore Colombia's capital. This sprawling metropolitan city has plenty of history and culture. Take it in by going on the Street Art Walking Tour or the Bogota Bike Tour. For fancy coffee snobs (like us), La Zona Rosa and Zona G are filled to the brim with delicious Colombian speciality coffee.
Day 9: Bogota to San Gil
From Terminal Norte, grab a fairly short bus to San Gil, the adventure capital of Colombia! There are a ton of activities to do in this tiny mountain town. It's also home to one of our favorite hostels in Colombia, Sam's VIP Hostel.
Day 10-11: San Gil
Two days might not be enough for everything you want to do, so plan ahead in advance. In San Gil you can paraglide in the world's second largest canyon, go white water rafting at all levels, explore caves, take a canyoning tour where you'll jump and repel off cliffs, and rappel off of a 600 foot tall waterfall called Juan Curi, and tons more outdoor adventures.
Another must-do activity in San Gil is playing tejo, a traditional Colombian sport involving beer and gunpowder. It's like cornhole with explosives, and it's a BLAST.
Day 12: Day trip to Barichara/Guane
Barichara is a sleepy town located next to San Gil, and nicknamed "The Prettiest Town in Colombia." Take a short bus ride to enjoy the peaceful little colonial town – and don't forget to stop by El Compa to try cabrito.
From Barichara you can do a two hour hike through the country to Guane, an even more remote little town. Catch the bus back to San Gil from there.
Day 13: San Gil to Bogota
The ride back to Bogota is the exact opposite one you did before. The buses run less frequently in the afternoon so make sure you get there in the morning.
Day 14: Fly out of Bogota
Take one last stroll through La Candelaria. Sip one last coffee at Juan Valdez. Enjoy one last bowl of hot, comforting ajiaco. And then grab a cab and head to El Dorado airport. But don't worry – if you're anything like us, you'll be back!
Note: If you can, we recommend combining these two itineraries! Start in the north and fly from Cartagena to Medellin.
Colombian food
Before traveling to Colombia, we did a ton of research on Colombian cuisine (full disclosure: we are absolutely the sort of people who base their travels entirely off of what we want to eat). But oddly enough, Colombian food seemed to be universally given the shaft. "Not well seasoned," some articles sneered. "There's just not really a Colombian cuisine identity," huffed others.
Well, let me assure you: they're all wrong. We discovered that each region in Colombia was home to a different specialty – and they were all absolutely delicious!
Colombian food, generally speaking, is fairly simple and created with locally grown ingredients. Most dishes in Colombia will be served with boiled yucca, rice, and a plain grilled arepa. Breakfast is typically a fried egg and bread or an arepa. Lunches are typically served with a first course of hot soup, and both lunches and dinners center around meat. It is entirely appropriate to drink jugos naturales, sweet fruit juices or milkshakes, with any/every meal, and then to order another one for dessert, too.
Other than starchy yucca, potato, and corn, the only vegetables you'll find will be heaped into a small salad served on your plate; don't eat it, as it's washed in tap water and likely to make you sick. Vegetarian food can also be hard to find in Colombia.
Cartagena @creatifartiste
Colombian street food
Colombian street food is cheap, safe, and delicious. Do not hesitate to purchase anything which strikes your fancy, whether it's being cooked on an open grill in front of you or handed through a bus window, wrapped in saran wrap. Swallow your fear and doubt and just feast. Here are our favorite Colombian street food snacks.
Arepas: The most famous and recognizable of Colombian street foods, arepas are a steamed or grilled corn pancake, served plain or stuffed. Our favorites are grilled with cheese from a street cart in Plaza de Trinidad in Getsemani, Cartagena or stuffed with ham, cheese, mayonnaise, and egg in San Gil.
Mango Biche: Fresh, sliced unripe mango sprinkled with lime juice, salt and pepper. Best eaten in the walled city of Cartagena on a hot day.
Obleas: Two thin wafer cookies sandwiched with your choice of fillings. Fillings typically include jam, chocolate, nuts, shredded coconut and best eaten from a cart in Bogota with a Rolling Stones logo on it, for some reason.
Chuzos de Res or Pollo: Grilled meat on a stick. Best eaten in Cartagena, near the Plaza de Trinidad in Getsemani, accompanied by a cold Aguila sometime after midnight.
Traditional Colombian dishes
If there's one rule to follow when it comes to Colombian food, it's to eat whatever is local to the region you're visiting. Colombian flavors, ingredients, and dishes vary significantly by region. Most restaurants in Colombia serve "typico", traditional Colombian cuisine.
Here are a few of our favorite Colombian dishes, and where to eat them.
Bandeja Paisa: Arguably the most "famous" traditional Colombian dish, the "countryman's platter" consists of rice, ground meat, fried chicharron/pork belly, sweet plantain, and avocado – all topped with a fried egg. It is an absolutely enormous portion of food, meant to keep you full all day long and available at an extremely cheap price. Even though you can find bandeja paisa all over Colombia, it's best eaten around Medellin, where it was invented.
Cabrito Santandereano: Don't let the fact that "cabrito" means "baby goat" scare you away from ordering this incredible dish if you're visiting the Santander region of Colombia. The meat is marinated until tender and flavorful, then grilled until smoky and served with pepitoria, a delicious rice dish made with the juices and other parts of the cabrito. The best place to get this dish is the delicious El Compa restaurant in tiny, picturesque Barichara!
Carne Oreada: This delicious thin marinated steak has incredible flavor and a chewy consistency that is not unlike beef jerky. The more you chew the meat, the more flavor is released. Carne Oreada is found in the Santander. Try it at El Compa in Barichara along with your cabrito.
Posta Negra Cartagena: Tri-tip is marinated and slow cooked in a dark, sweet, syrupy sauce. This is a must-try while visiting Cartagena, especially at Cocina de Pepina.
Soup: Colombia makes excellent soup. Even when it's hot outside and you don't feel like eating soup, if someone puts soup on your table, eat that soup. And if there's a bowl of salsa or some other topping served alongside that soup, top your soup with whatever it is. It's going to be amazing. Each region has their own soup. Ajiaco is a chicken, corn, and potato stew topped with local herbs and crema served in Bogota. Mondongo is a flavorful tripe stew found in Medellin – try it at the helpfully named Mondongo's. In Cartagena, you'll find incredible fish and coconut stew topped with fresh lime – try it at La Cocina de Pepina. In most of Colombia, especially Cali, you'll see sancocho de gallina on the menu: it's chicken soup with hunks of boiled yucca, potato, and corn, and the most comforting thing in the world.
Colombian fruit
Fresh fruit is one of the most amazing things you can eat while visiting Colombia. No, seriously! Colombia grows more exotic varieties of fruit than nearly anywhere in the world, and chances are you've never even heard most of them. Take advantage of your time in this fruit-lover's paradise and stuff your face with as much fruit as you can comfortably digest.
When in Colombia, it's perfectly acceptable to eat fruit for all three meals. One way to do this is by ordering "jugos naturales." Jugos naturales are either smoothies (when blended with ice) or milkshakes (when blended with milk). They're inexpensive and sugary and delicious and quintessentially Colombian, and no one will judge you for drinking a milkshake at breakfast.
Another way to increase your fruit intake as much as humanly possible is to stock up at a mercado. Visiting a mercado in Colombia is one of the best authentic, local experiences you can do – and it's also the cheapest way to purchase food, especially fresh fruit. You'll never be tempted to enter a supermarket again!
We recommend approaching the fruit in Colombia with an open mind and stomach. Every time you see a new jugo natural flavor on the menu, order it. When you see a street vendor selling some alien-looking fruit that you've never heard of, try it. Every time you spy something exotic and sweet at the mercado, buy it. According to our scientific calculations, if you eat fruit three times a day, every day for the entirety of your trip to Colombia, you may be able to try every kind of Colombian fruit before you die. And isn't that worth at least a try!?
Here are our favorite Colombian fruits:
Guanabana: Also known as soursop, Guanabana is a giant green oblong fruit with bright white flesh. But that doesn't matter, because you won't be eating it in fruit form. Guanabana is best when blended with milk and sugar in delicious fresh jugos naturales. Look for it on drink menus throughout Colombia.
Cherimoya: Mark Twain once said "Cherimoya is deliciousness itself." And no, I didn't just make that up. He actually said that. Cherimoya looks a bit like a shriveled up artichoke, and the inside closely resembles alien guts. But ignore appearances, because cherimoya is one of the most mind-blowing fruits you'll ever eat. Cherimoya is the answer to the age-old question, "where did they come up with the flavor of bubble gum?" Yep, the custardy white flesh inside the fruit tastes like honeysuckle bubble gum. If you see a street vendor selling these delicious treats, pick up a few and go to town! Cherimoya is best eaten while standing in the street and dripping juice all over yourself.
Mamoncillo: Cousin to the lychee, these little green balls look like limes but grow in bunches like grapes. They're a labor intensive fruit, but fun to eat. Break the very thin skin with your teeth and a fuzzy little citrus-y fruit pops in your mouth. The fuzzy fruit will be stuck to a large pit, so you'll want to suck on the pit to get the fruit, then spit out the pit. It will leave your hands sticky, but it's worth it. You'll find vendors selling sticky bags of mamoncillo in the walled city of Cartagena.
Granadilla: These delicious yellow fruits are a sweet variety of maracuya, sour passion fruit. Rip them open with your hands and suck out the jelly-covered seeds inside; the sweet fruit is complimented perfectly by the tartness from the crunchy, chewable seeds. Granadilla can be found throughout Colombia.
Colombian desserts
Colombians absolutely love sugar. Their desserts are incredibly sweet, and often paired with something salty. Even though we're both sugar addicts, we found ourselves gravitating more towards fruit or sweet/salty combos like hot chocolate and cheese (a traditional Colombian snack) just to save our poor teeth and calm our racing hearts. If you like your sugar topped with more sugar, Colombia is the place for you!
Sweet Breads: Stop by any Colombian bakery to try one of their many delicious sweet breads. You'll find loads of bready treats, stuffed with everything from guava jelly to cheese. Our favorite bakery is El Pandequeso in the walled city of Cartagena, where everything is cheap and sweet and sticky and cheesy.
Arequipe: Each Latin American country has their own version of caramel. In Colombia, you'll find arequipe and around Christmas time, manjar blanco. Try arequipe in many forms, from candy to obleas to stuffed in a cone pastry to straight out of the jar from the store.
Colombian culture
Forget everything TV and the news has ever told you about Colombia; this country's culture and identity is much more than coffee, cartels and cocaine. First time visitors to Colombia are blown away by its size and diversity. Not only is it massive – three times bigger than Germany – but it is also the second most biodiverse country in the world.  The culture of Colombia is equally diverse,  shaped largely by its time as a Spanish colony while its indigenous, European and African influences remain strong.
Religion in Colombia
Recent figures suggest 79% of Colombians identify as Catholic, and this continues to fundamentally shape relatively conservative attitudes, family dynamics, and culture within the country. Attendance at church remains strong, whilst public displays of faith are common.
For the visitor, it's important to bear this in mind socially, but you will quickly sense a happy juxtaposition between religious devotion and the colourful, fun loving and exuberant side of Colombia like loud reggaeton music, risqué dancing and the prevalence of plastic surgery.
Colombian festivals
In a country with one of the highest number of public holidays in the world (18!) and dancing ingrained in its culture, it shouldn't come as a surprise that Colombia has loads of public festivals, two of  which are recognised by UNESCO.
The four-day Barranquilla Carnival is certainly its most famous and is the country's answer to the Rio Carnival. Visitors take to the streets to dance, sing and cover each other in flour in this city on the Caribbean coast (the birthplace of Shakira and Sofia Vergara). January's Black and Whites Festival, held in Pasto, is the most ancient carnival in South America with its origins dating back to Spanish rule. It remembers the one freee day a year African slaves were granted, and in the present day sees music, spectacular floats and two days where the city and crowds are covered first in black paint and then white.
It's important to anticipate these festivals and public holidays when planning your own itinerary as locals love to travel to them and during them, particularly in January. Accommodation is scarce, buses sell out and everything more expensive and crowded.
Christmas and New Year traditions
Due to its religiosity, love of holidays and the importance of family, it should come as no surprise that the Christmas period in Colombia is HUGE. The celebrations are quite different to what you may expect though.
Noche de las Velitas (Night of the Little Candles) takes place on the evening of December 7th, with everyone taking to the streets to light candles and this really marks the beginning of the festive period (and starting to eat buñuelos!). This is followed by the novena, an extremely Colombian Christmas gathering over the nine nights before Christmas. Originally referring to a set of nine prayers, it's now much more than a purely religious celebration, with novenas being hosted for close friends, classmates or colleagues to eat, drink, pray and sing Colombian Christmas carols!
Christmas is celebrated on the 24th December at midnight, with children receiving their presents from El niño Dios (God Child/the baby Jesus), rather than Santa Claus. Finally, on the 28th, people celebrate Innocents Day, which is essentially like April Fools.
New Year's Eve however is where Colombia excels at having some of the most unique traditions. From eating 12 grapes at midnight (one per chime) and wearing yellow or red underwear (one will bring you prosperity, the other love in the coming year), to our favourite one of wandering around the neighbourhood with a suitcase to guarantee a year full of travel.
And, as at every Colombian celebration, there WILL be firecrackers.
Colombian people
When we try to explain what, exactly, keeps pulling us back to Colombia again and again, our answer is always the same: the people. The people of Colombia are some of the friendliest, kindest, most hospitable, welcoming people we've ever met.
I'm not sure if it's in spite of, or because of Colombia's past that its people are so positive and welcoming. But as tourists visiting a country that still carries a bloody stigma, we were welcomed with open, grateful arms by locals eager to show us the beauty of their amazing country – and we fell in love with it right alongside them.
Colombia is the kind of place where you could be walking down the street minding your own business and a local might stop you and ask if you need anything – just to make sure you're OK.
It's the kind of place where everyone and everything is "tranquilo," the national Colombian state of existence. "Tranquilo" when you're running late to a flight and sitting in traffic; "tranquilo" when you've lost your passport; "tranquilo" when you're having a panic attack on a waterfall 200 meters in the air and screaming bloody murder (er, maybe that's just me).
Oddly, instead of being infuriating, "tranquilo" is pervasive: it seeps into your mind like a relaxed, meditative cloud, so that even after you've left Colombia, it's still there letting you know that everything will work itself out.
Colombian language
In order to communicate successfully with locals, you'll need to have a grasp of basic Spanish – the better your Spanish, the easier your travels will be.
That said, Colombians are uniquely patient. They will wait encouragingly for you to explain what you need via broken Spanish, sign language, hand-painted illustration, and an elaborate interpretive dance.
Then, instead of giving up on your miserable attempts to convey "where is this hostel?" via cartwheels and aggressive pointing, they'll whip our their cell phones to call their cousin who took an English class once and hand you the phone.
If you are ever in need of absolutely anything at any time during your travels in Colombia, just find a local and ask for help. They will happily assist.
Colombian music
Our travels in Colombia have always been accompanied by a soundtrack. Colombia is a country of rhythm, music, and dance, and there is somehow always music playing. The music of Colombia speaks directly to its history, and Colombian music is nearly always accompanied by dance.
Cumbia is a fusion of Afro-Caribbean rhythms born from the mixing of the Indigenous peoples of the northern coast and the Africans unwillingly relocated there. Cartagena was the primary slave port for all of South America, and cumbia is just one of the lasting legacies of the Africans who never chose to call Colombia their home, but whose influence shaped the Cartagena of today. It is a music of drums and whooping and chanting, accompanied by a dance created by slaves wearing shackles around their ankles.
Like cumbia, champeta has deep African roots. In Cartagena and Barranquilla and in the nearby palenques, communities of freed slaves created this musical genre.  Watch a traditional cumbia or champeta performance and you can't help but feel the soul of Africa and the influence of the millions of lives lost to slavery in Cartagena and the rest of the Americas.
For most gringos, Salsa is one of the most recognizable Colombian musical genres. But Colombian salsa is quite different from the Cuban and Puerto Rican salsas that preceded it. Salsa must be danced to, it is not a music that can simply be listened to! You'll hear famous Colombian salsa artist Joe Arroyo played all over Colombia and see his image in murals and street art throughout Colombia, especially in his hometown of Cartagena.
Reggaeton is the most popular music among the younger crowd in Colombia, and it's what you'll likely be listening to at every hostel you stay in. We fell in love with reggaeton during our travels, and it isn't hard to catch us singing along (poorly) to Shakira, Carlos Vives, or Bomba Estéreo, three of our favorite Colombian artists.
Is Colombia safe?
One of the first questions that we get asked when we talk about our love for Colombia (other than, "wait, what does Colombia have to do with what we were talking about?") is "Is Colombia safe?"
We can't blame them: most of the local news coverage about Colombia focused on Guerillas, Pablo Escobar and drug cartels. And if you've watched Narcos on Netflix recently, it might feel a bit fresh.
But here's the good news: Pablo Escobar died nearly 30 years ago, the Colombian drug cartels no longer exist, and Colombia has experienced relative peace for several years. Even FARC, the most well known Guerilla group in Colombia, officially disbanded in 2017 after five long decades of fighting. Although some scuffles between paramilitary groups and the Colombian Government may still occur, they are not a threat to tourists.
That said, do not go wandering off alone into the jungle in search of adventure – certain off-the-beaten-path parts of Colombia are still not safe. And if you go looking for drugs or prostitutes, you will find trouble: nearly every tourist-related violent crime in recent years is related to drugs or prostitution. The risk is not worth it.
Although it is currently relatively peaceful, Colombia is not crime-free, particularly in its major cities. As with any big city, you'll want to take special care with your belongings in order to avoid pickpockets: be especially carefully in Bogota or Medellin and when riding public transportation. We recommend keeping your cash in a money belt or bra pocket to cut down on the potential of theft or pick-pocketing.
Medellin is the one city that we would recommend taking extra safety precautions when visiting. Venture outside of the gringo neighborhood of El Poblado and you may not feel welcomed some parts of the city, particularly El Centro.
You may also notice a certain reverence for Pablo Escobar in Medellin that is conspicuously absent in the rest of the country: although he and the Medellin Cartel are long gone, his legacy lives on in the many homes, neighborhoods, and communities that he funded. Take a Pablo Escobar tour in Medellin and you'll be instructed not to speak his name out loud, lest locals hear and accuse you of speaking ill of Don Pablo.
Cartagena is another city where tourism is popular and theft is more common. Until recently, moto-taxi theft was common, but moto-taxis have recently been banned from within the walled city to prevent this. Stay out late enough in Cartagena, and you'll witness the seedy underbelly of the walled city.
In recent years, a drug called borrachero has been making alarming headlines across the world. The drug is used to spike drinks, and although it isn't terribly common, it is something to watch out for. Take the same safety precautions as you would anywhere: avoid going out at night alone, always keep an eye on your drink, and never accept drinks, food, or cigarettes offered by strangers.
As a general rule of thumb when traveling in Colombia, it's best to stay firmly on the beaten path. Backpackers and travelers frequent many parts of Colombia, so you'll feel perfectly safe exploring them. Venturing off into the jungle without a guide or tour, wandering around late at night by yourself, and seeking out illegal activities like drugs are things we definitely recommend NOT doing.
That said, we have visited Colombia several times and almost never felt unsafe. Follow basic safety precautions and you shouldn't feel unsafe, either!
Colombia travel tips
Colombia's reputation in the west is, unfortunately, largely centred around drugs, civil war and crime. Any visitor should appreciate that, within Colombia, these are complex issues which killed thousands, displaced millions and continue to directly impact individuals across the country. Respectful and serious curiosity on these issues is key, not flippant remarks about how much you loved Narcos.
Colombians are generally welcoming and proud that people are now choosing to visit in increasing numbers now for the right reasons, and are much happier to discuss the country's more positive present and future with you than dwell upon about its turbulent past.
On a practical level, when entering any shop or restaurant, it's polite to greet the staff with a 'buen dia' or 'buenas tardes' in the afternoon.
Haggling in Colombia
Colombians accept haggling in certain contexts (i.e. street souvenir vendors and markets). Haggling aggressively however is not the right approach and is more likely to shut down any transaction. Whilst you can also haggle over bus tickets, it doesn't always work though.
Colombian Manners
Colombians place a high value on manners, formality and acting politely rather than exuberantly in new settings . Also, try not to look too much like a downtrodden backpacker in more formal settings. Learning some Spanish basics is also key to having a better trip overall and understanding the culture a little better.
Lastly, remember it's ColOmbia, and not ColUmbia – Colombians get very annoyed at the mistake!
About the authors
Lia is a travel blogger at Practical Wanderlust  an off-beat couple's travel blog which has been featured in Travel & Leisure, Forbes, the Washington Post, and other impressive sounding publications. When she's not traveling, she lives in Oakland, California with her husband Jeremy. Follow along with their travel disasters – er, adventures – on Instagram, Facebook, and Pinterest!
Blogging at Along Dusty Roads, Andrew and Emily inspire everyone to travel more, travel better and travel more beautifully. Whether it's discovering the hipster area of an old European city, trekking through the rainforest in South America or road tripping around the Scottish Highlands, Andrew and Emily think there's an adventure, a story and a new discovery to be had wherever you go – and they'll show you exactly how to find it! You can also follow Along Dusty Roads on Instagram, Facebook and Twitter.
Pin this guide for later!